DESCRIPTION
The casting process of cast iron bathtub is completed by gravity casting. After polishing and shot blasting, it is enameled for 3-4 times under 900 degree high temperature.The bottom of the bathtub can also be equipped with a variety of non-slip patterns to ensure the safety and reliability of the use process. In the meantime, bath handles still can add according to client need match different type metal armrest. Using the traditional cast iron enamel process, the product combines acid and alkali resistance, impact resistance and good thermal insulation performance.Catalyzed by firing at a temperature of 900 degrees Celsius, the two materials, which are very different from each other, are fused together.Pure hand polishing and enamel make this product fully show the creativity of human civilization in the old industrial era, and also show its many irreplaceable characteristics and qualities.
SPECIFICATION
●Item Number: NH-030
●Weight: 102kgs
●Item Dimension: 1700 x 750 x 420MM;
●Color: White
●Style: Drop In, Soaking
●Material: Southsea Cast Iron
●Installation Method: Drop In or Undermount
●Drain Location: Left
●Package Quantity: 9pcs/wooden pallet
DIMENSION
●Overall Length: 1700MM (measured from left most to right most point on outer rim)
●Overall Width: 750MM (measured from back most to front most point on outer rim)
●Overall Height: 420MM (measured from the top of tub rim to the bottom of drain hole)
CAD DRAFT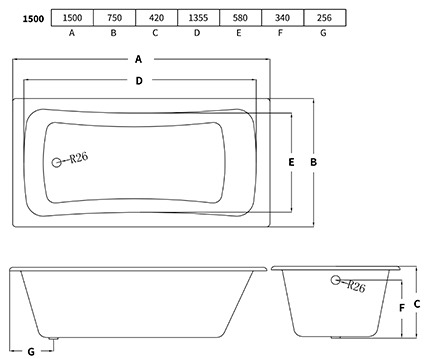 NOTE: Tub dimensions may vary +/- 10 mm and are subject to change. For best results, Southsea Bath STRONGLY recommends that Cast iron baths are extremely heavy, please wear appropriate safety equipment when moving and installing these products. Southsea Bath assumes no responsibility for improper package disassembly and rough-in installation.
OPTION
●Tap Hole: Without in general, but it is available to be with.
●Bathtub Grip: Without
●Bath Drain: NH-T502
●Slip-resistant Pattern: Available with or without
●Bath Pillow: Available with or without
●Bath Mat: Available with or without