DESCRIPTION
●Elegantly simple with extra depth in a compact design for comfortable bathing.
●A textured slip-resistant bottom is available to take the worry out of slipping and sliding.
●Customization for special specification and requirement is available.
●Built-in, 3-wall alcove or undermount installation.
●Constructed SOUTHTSEA Cast Iron.
●Designed for 1-person bathing
●MADE IN CHINA
SPECIFICATION
●Item Number: NH-005
●Item Weight: 152kgs(1500MM) ; 183kgs(1700MM)
●Item Dimension:
●1500x800x500MM
●1700x800x500MM
●Color: White enameled interior and back glazed
●Style: Traditional, Soaking
●Material: cast iron
●Installation Method: Drop In or Undermount
●Drain Location: Left
●Package Finish: 5pcs/wooden pallet
DIMENSION
●Overall Length: 1500MM or 1700MM (measured from left most to right most point on outer rim)
●Overall Width: 800MM (measured from back most to front most point on outer rim)
●Overall Height: 500MM (measured from the top of tub rim to the bottom of drain hole)
CAD DRAFT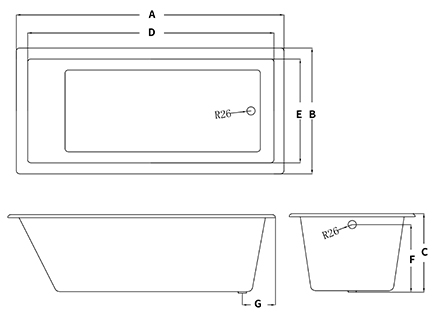 NOTE: Tub dimensions may vary +/- 10 mm and are subject to change. For best results, Southsea Bath STRONGLY recommends that Cast iron baths are extremely heavy, please wear appropriate safety equipment when moving and installing these products. Southsea Bath assumes no responsibility for improper package disassembly and rough-in installation.
OPTION
●Tap Hole: Without in general, but it is available to be with.
●Bathtub Grip: Available with or without
●Bath Drain: NH-T502
●Slip-resistant Pattern: Available with or without
●Bath Pillow: Available with or without
●Bath Mat: Available with or without