DESCRIPTION
This bathtub is Vitreous White Enameled
This process varies in the amount of time it takes to complete due to the size of the bath and thickness of the enamel. The bath is then (ground coated) this is like an undercoat which is sprayed on to the bath and force dried before being placed into the furnace for its first of approximately four firings at a temperature in excess of 800 degrees Celsius. After 30-50 minutes, the bath is taken out of the furnace and allowed to cool. Then it is stoned down to try and smooth the surface of the newly fired ground coat so it is ready for its first of 3-4 applications of (cover coat) this is the actual enamel that when fired in the furnace it gives you the white shiny surface.
●Rectangular drop-in or under-mount installation options allows the customer to choose what best suites their needs.
●A casting pillow design on the end of tub is available to make more comfortable in bathing.
●A textured slip-resistant bottom is available to take the worry out of slipping and sliding as you move about the tub.
●Wide shape designed for two-person bathing.
●MADE IN CHINA
PRODUCTS BENEFITS
Southsea Bath's enameled Cast-Iron combines the strength, durability, and insulation benefits of cast-iron with the scratch, chip, and burn resistance of a baked, powder coat finish and comes with an exceptional Lifetime Limited Warranty. When these materials are combined it gives the sink or tub the strength to last a lifetime of use. Constructed of durable Cast Iron which provides incomparable water temperature retention. Product Meets or Exceeds the Following Codes and Standards: ASME.
SPECIFICATION
●Item Number: NH-020
●Item Dimension: 1500/1700/1800 x 800 x 420MM;
●Color: White enameled interior and back glazed
●Style: Drop In, Soaking
●Material: Southsea Cast Iron
●Installation Method: Drop In or Undermount
●Drain Location: Right
●Package Quantity: 7-9pcs/wooden pallet
DIMENSION
●Overall Length: 1500/1700/1800MM (measured from left most to right most point on outer rim)
●Overall Width: 800MM (measured from back most to front most point on outer rim)
●Overall Height: 420MM (measured from the top of tub rim to the bottom of drain hole)
CAD DRAFT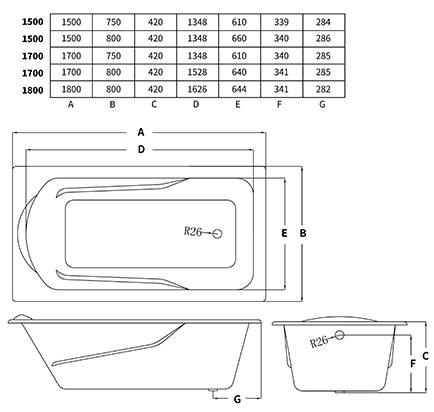 NOTE: Tub dimensions may vary +/- 10 mm and are subject to change. For best results, Southsea Bath STRONGLY recommends that Cast iron baths are extremely heavy, please wear appropriate safety equipment when moving and installing these products. Southsea Bath assumes no responsibility for improper package disassembly and rough-in installation.
OPTION
●Tap Hole: Without in general, but it is available to be with.
●Bathtub Grip: Y1604B OR Y606B
●Bath Drain: NH-T502
●Slip-resistant Pattern: Available with or without
●Bath Pillow: Available with or without
●Bath Mat: Available with or without